:::
Michigan State University Hosts Conversation with Stacey He, Author of "Three Moons"
Date:
Author Stacey He with moderator and interpreter Prof. Sang Tze-Lan, Professor of Chinese at MSU
Stacey (Wan Ching) He, a Detroit-based Taiwanese American writer, presented a Visiting International Professional Program Signature Lecture and discussed her debut novel "Three Moons", at the Asian Studies Center at Michigan State University on June 5.
The event was co-presented by the Visiting International Professional Program and the Chinese Program in the Department of Linguistics and Languages, the Center for Gender in Global Context (GenCen), and the Ministry of Education of the Republic of China (Taiwan). The lecture was given in both Chinese and English and was open to the public, free of charge.
The Chinese-language novel was published in Taiwan by Unitas in 2018. It centers on three female immigrants, two from Taiwan and one from China, living in New York City and explores how their different backgrounds influence the way each engages with migration, family ties, their ambitions and women's careers, sexuality, and identity.
During her lecture, Stacey He read selected passages from "Three Moons" and engaged with moderator Sang Tze-lang, Professor of Chinese at MSU, and with the audience about living and writing in-between cultures. She said the life of the three main protagonists reflects the life of her friends around her and also the life of her audience. The lecture offered the audience a chance to question their own identities as immigrants and as people studying abroad, as well as engaging in a conversation about the impact that historical and societal factors have on fiction writing.
Stacey explained that she was inspired to be a journalist when she was still very young, and she was a journalist for many years before turning to creative writing. It took her six years to write her novel but it became the No. 1 bestseller in Taiwan just one week after it was published. She pointed out that at the end of the novel all three women are pregnant, so readers can look forward to a second novel to come.
After the very interesting and lively discussion, Stacey signed copies of her book, and everyone enjoyed a Chinese lunch served at the venue. This VIPP event was partly subsidized by the Taiwan Studies Initiatives project. This was established through an MOU signed in 2014 between the R.O.C Ministry of Education and Michigan State University, to foster international cooperation in education and research.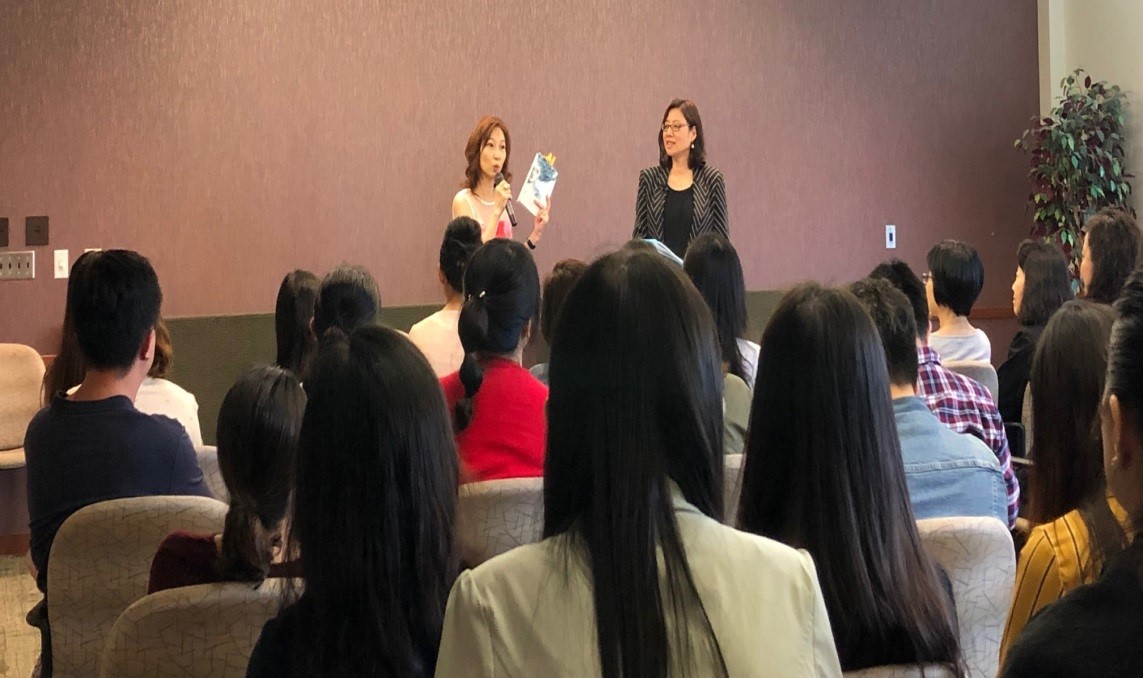 From left: Author Stacey He with moderator and interpreter Prof. Sang Tze-Lan, Professor of Chinese at MSU.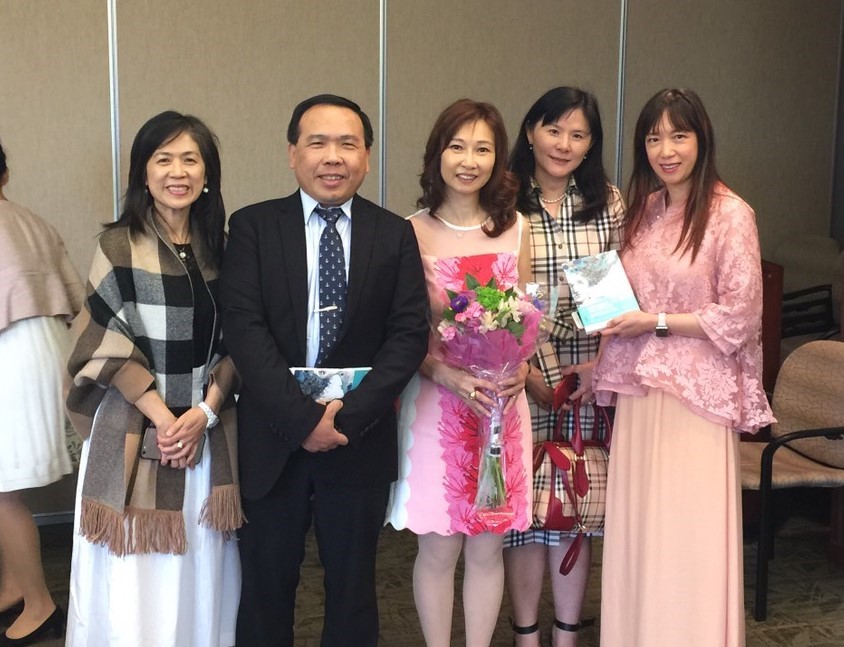 From left: Ms. Chen Ching-Ching, David Dong (Director of the Education Division of the
Taipei Economic and Cultural Office in Chicago), Ms. Stacey He (the author), Ms. Joyce Chen, and Dr. Wu Xinyu.