:::
The Ministry of Education and Le Bureau Francais de Taipei Continue to Foster Ties of Academic Cooperation and Cultural Exchange
Date: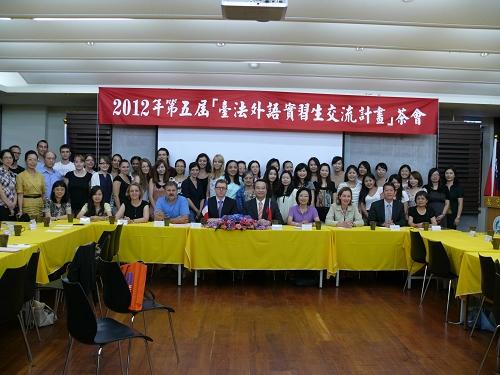 Since 1998, Taiwan and France have been fostering ties of academic cooperation and cultural exchange through a successful country-to-country language internship exchange program.
Each year, scholarships are given to outstanding students of French and Mandarin. These student assistants are then assigned through the language internship exchange program to schools, in France and Taiwan, where they will teach their respective native languages to primary, high school and university students for a period of nine months.
According to Le Bureau Francais de Taipei and the Ministry of Education, this program continues to be a popular one with French and Taiwanese students. To date, both countries have provided scholarships for at least 10 to 15 deserving students.
The Ministry of Education and Le Bureau Francais de Taipei strongly support the mutual vision to promote their students increased language proficiencies, professional skills and linguistic competencies through this language teaching and cultural exchange program.
Currently, there are over 12 Taiwan and French high schools participating in school-to-school sister relationships and more than 300 documents of exchange have been signed by both countries. Students from Taiwan are placed at French primary and secondary schools to teach Mandarin Chinese, while French students are placed at universities and high schools throughout Taiwan to teach French.
The MOE offers monthly stipends of approximately US$1,000 for the nine month exchange program and roundtrip airfare. Each September, the Ministry of Education also sponsors a welcome and farewell reception for incoming French students and those Taiwan Students that will be leaving for France.