News Updates
Representative Frank Hsieh Speaks at Waseda University on the Status and Prospects of Taiwan–Japan Relations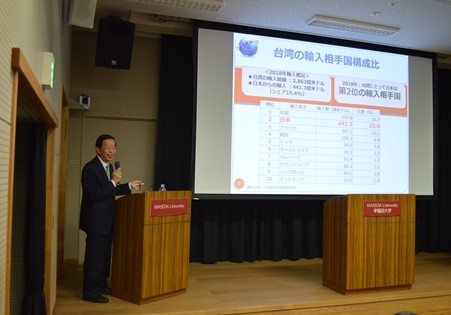 Frank Hsieh, the Representative at the Taipei Economic and Cultural Representative Office (TECRO) in Japan, gave a presentation at Waseda University on June 8 on the topic of the Status and Prospects of Taiwan–Japan Relations, in response to an invitation by Nittai Toumonkai, the Waseda University Alumni Association (日臺稻門會).
Representative Hsieh commented that there are currently 412 students from Taiwan studying at Waseda University, a significantly high number, and he expressed hope that after they graduate they will contribute to enhancing strong relations between Taiwan and Japan.
Representative Frank Hsieh cited several major developments in the relationship between Taiwan and Japan in the past three years. He was personally involved in promoting the renaming of the Association of East Asian Relations–Taiwan's agency that handles its formal relations with Japan–as the "Taiwan–Japan Relations Association" (台灣日本關係協會), and Japan decided to change the name of its representative office in Taiwan to the "Japan–Taiwan Exchange Association" (日本臺灣交流協會). These changes both occurred in 2017. More members of the Diet in Japan have joined the Sino-Japanese Parliamentary Group (日華議員懇談會), and local governments in Taiwan and Japan have already signed 128 bilateral and regional friendship agreements, with more than half (66) signed during the past three years.
Representative Hsieh pointed out that Taiwan and Japan are both island countries where natural disasters often occur. They have formed a "cycle of goodness"*, and when natural disasters have struck Taiwan or Japan in the past few years, they have assisted each other. At such times President Tsai Ing-wen and Prime Minister Abe have sent condolences through Facebook and Twitter, which clearly indicates the very intimate relationship between the two countries.
Turning to future relations between Taiwan and Japan, Representative Hsieh said that he hopes to promote bilateral agreements and increase exchanges of work personnel between local cities in Taiwan and in Japan, and that deepening local exchanges, encouraging youth mobility between various educational institutions, and expanding opportunities for business people in both countries will strengthen the close relations between Taiwan and Japan.
*Note: the term "cycle of goodness" (善的循環) refers to the philosophy of Japan's YKK Group. It is based on the concept that "no one prospers without rendering benefit to others".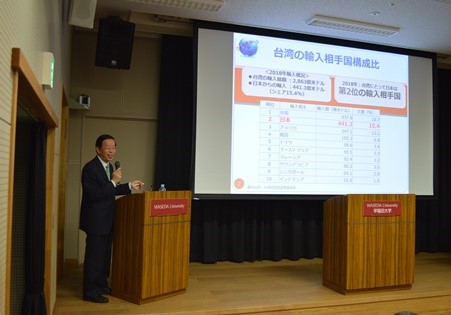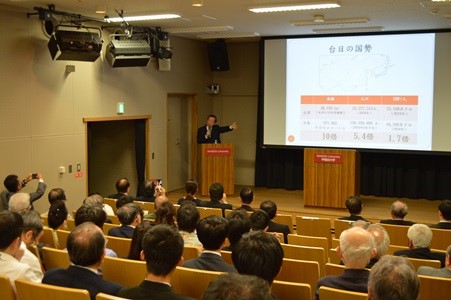 Representative Frank Hsieh giving his presentation at Waseda University.