:::
Overseas Taiwanese in Kobe and Osaka Take Part in the 49th Kobe Festival
Date:
The Taiwan team in this year's Kobe Festival parade.
Kobe Festival celebrates the port city of Kobe and its vibrant economy. It's held on the third weekend in May each year, with the main parade on Sunday. Approximately 6,700 people formally participated in this year's parade of 80 local and foreign teams, and according to the estimates by the organizing association, approximately 970,000 people joined in as spectators.
The Kobe Association of Overseas Taiwanese in Japan organized a team of 100 people to participate in the 49th Kobe festival on May 19, led by Director Lee Shi-bin of the Taipei Economic and Cultural Office in Osaka (TECO), and other TECO staff.
The Kobe–Taiwan KIZUNA team members included overseas Taiwanese from Kobe and Osaka, and young people from Taiwan currently studying at universities in Akita, Tokyo, Yokohama, Osaka and Okinawa. The Kobe–Taiwan KIZUNA parade performance featured four elements: Electric-Techno Neon Gods, a giant national flag, dancing, and a cheongsam group, and hundreds of students from Kobe Gakuin, a local school, directed by Jiang Huei-Ping from Taiwan, waved flags representing the friendship between Taiwan and Japan.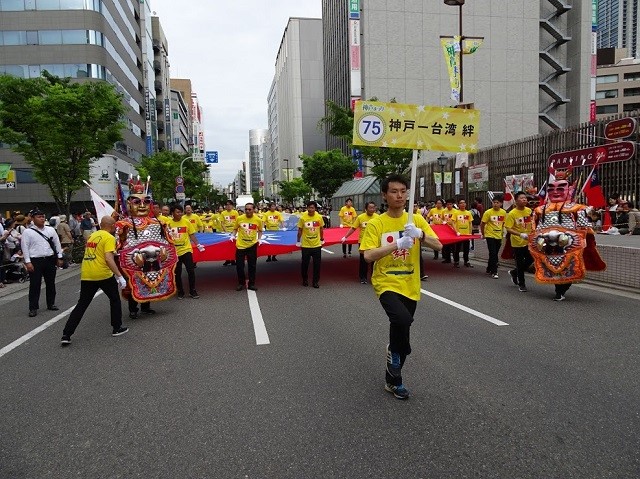 The Taiwan team in this year's Kobe Festival parade.