:::
Education Division of TECO in Los Angeles Launches New Scholarship Portal to Attract More US Students to Study in Taiwan
Date: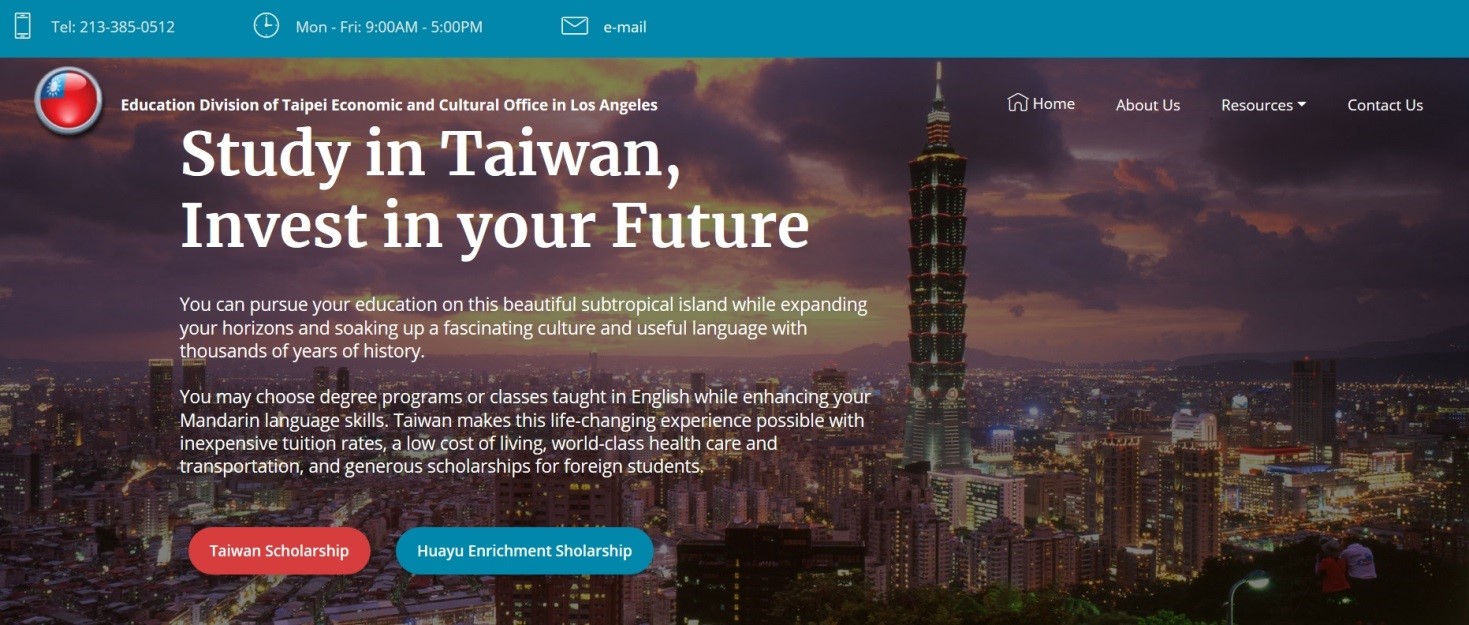 The Education Division of TECO in Los Angeles has been working to launch a new scholarship portal to promote the study abroad opportunities that young Americans can enjoy in Taiwan. The new portal provides a more user-friendly interface that is easy to navigate on smartphones that people use so much, as well as on computers. 
The new webpage, launched on February 1, lets people interested in applying for a scholarship:  
Easily find details about the different scholarships available and download application forms.
Efficiently locate all the other information they need, including details of programs, the TOCFL Chinese language proficiency test, and the designated offices to contact in the US.
See videos and testimonials from past recipients that highlight how the benefits of these scholarship opportunities to study in Taiwan far exceed their monetary value.
Studying abroad contributes to the development of soft skills and positive employment gains. This was a key finding of a research study released in October 2017, by the Institute of International Education, a New York based educational and cultural exchange organization, on the associations between education abroad and the employment competencies needed. In other words, studying abroad helps people acquire skills needed for career success. International educational experiences not only build self-confidence and foreign language abilities, but also foster valuable skills—including but not limited to communication, teamwork, and problem solving skills—and foster students' global perspectives. These are all critically needed for employment in 21st century workplaces. 
The Education Division of TECO in Los Angeles is therefore pleased to announce that in 2019, four Taiwan Scholarships, and Huayu Enrichment Scholarships (HES) covering a total period of ten years (individual recipients may stay for a number of months or up to one full year) will be available to US citizens from Southern California, Arizona, New Mexico, Hawaii, and Guam. All application materials must be submitted to its office by March 31, 2019. Please visit its new scholarship portal at www.tw.org/scholarships and log in to learn more.  
Photo:The new scholarship portal promoting Study in Taiwan.