:::
NPO XYZ in Japan Donates 23,000 Picture Books to Elementary Schools in Taiwan
Date: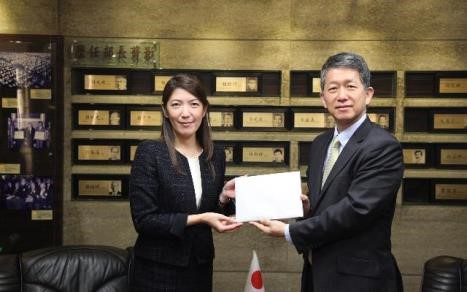 With the support of the Education Division of the Taipei Economic and Cultural Representative Office (TECRO) in Japan, on behalf of the Ministry of Education in Taiwan, Bi Tzu-An, the Director General of the Department of International and Cross-strait Education, received a gift from Mari Yokoi, the Vice President of the Japanese non-profit organization XYZ (Cross Wise), of 23,000 picture books for elementary school students in Taiwan. The books, entitled "You are the only one, but never a lonely one", are written in three languages: Chinese, English, and Japanese, and the Chinese text areas include the Mandarin Phonetic Symbols used in Taiwan to help the students to read the text. The books are expected to arrive at elementary schools in Taiwan in 2019, during the second semester of the 2018 academic year. 
XYZ has always encouraged students to develop good reading habits, and Director General Bi expressed the Ministry's appreciation, saying "We are grateful to the Japanese non-profit organization XYZ for their generosity and warm hearts. The picture book is clear and concise, and the story is lively and interesting. At the same time as it describes different animals' characteristics and ways of living, it conveys the message that people should collaborate, love each other and treasure the earth we live on. And we hope that seeing this picture book in different languages will enhance the curiosity of our students and stimulate their interest in learning foreign languages". Director General Bi also expressed hope that the contents of the picture book will help the students to broaden their horizons and enhance their understanding of the diversity of different cultures. 
Mari Yokoi said that her organization is very thankful to the countries which provided support and assistance to Japan after people there were hit by the Tohoku earthquake in 2011. Ms. Yokoi added that she herself feels especially grateful to the Taiwanese people for what they did to help Japan during the period following the Tohoku earthquake disaster. 
The organization initiated a HEART HEART project, as a means of expressing its sense of corporate social responsibility (CSR), by making gifts of picture books for students living in different countries. The recipients are principally primary schools, libraries, orphanages, and institutions for people with disabilities. 
Photo:L-R: Mari Yokoi, the Vice President of NPO XYZ, with Bi Tzu-An, Director General of the Department of International and Cross-strait Education of the Ministry of Education.