:::
Ultramarathon runner Kevin Lin participates in the 2019 Tamarack Ottawa Race Weekend
Date: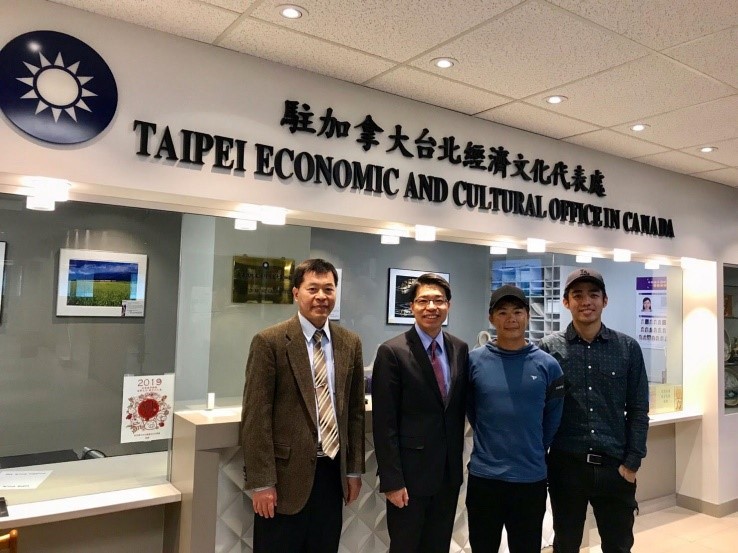 The Taiwanese ultramarathon runner and famous endurance athlete Kevin Lin was invited to attend the 2019 Tamarack Ottawa Race Weekend which is held on the last weekend in May. This is Canada's largest marathon gathering with seven different races. It is estimated that over the weekend approximately 200,000 people will cheer the runners in the various races on.
Kevin Lin called on Winston Wen-yi Chen, the Representative at the Taipei Economic and Cultural Office in Canada on Friday, May 24 and shared his views on how to promote Taiwan through marathon races. He told Representative Chen that the Ottawa Marathon and the Chiayi Alishan Marathon were officially declared sister marathons in 2018, and a memorandum of understanding has been signed between the Chiayi Alishan Marathon team and Run Ottawa. He signed as the representative of the Chiayi Alishan Marathon team, and John Halvorsen, the race director of Run Ottawa, signed for Run Ottawa.
The goal is to cooperate to help Taiwan's Chiayi Alishan Marathon to become more professional and acquire IAAF (International Association of Athletics Federations) labels in the future. Kevin strongly believes that once this goal is achieved, more and more international runners will be attracted to take part in running events in Taiwan.
Representative Chen said that he was very pleased to learn about Chiayi and Ottawa having sister marathons and the further developments in progress. He expressed deep thanks to Kevin Lin and his team for their great efforts toward enhancing relations between Taiwan and Canada through marathon events.
PHOTO: From left: Chengkie Cheng, Director of the Education Division of TECO in Canada, Representative Winston Wen-yi Chen, Kevin Lin, and Peter Yu, Assistant Manager of Kevinlin Co.