:::
Events
Pre-departure Orientation in Los Angeles for Scholarship Recipients Heading Off to Study in Taiwan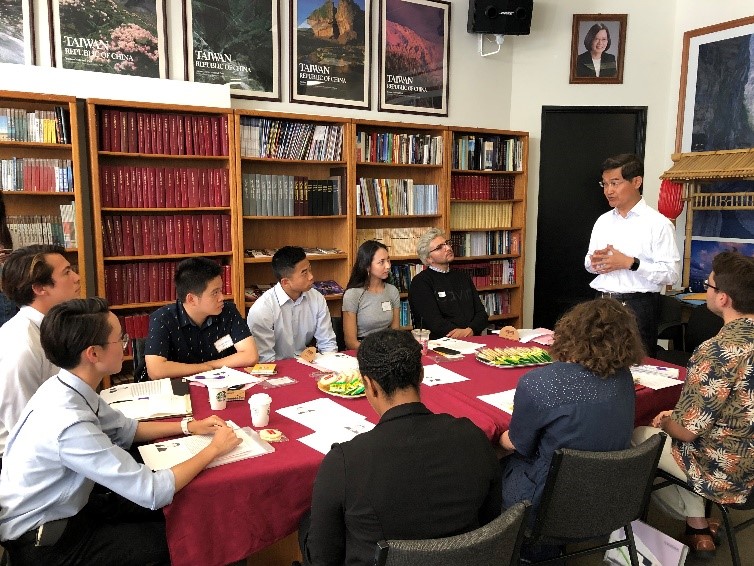 The Ministry of Education of the Republic of China established the Taiwan Scholarship Program - to encourage international students to undertake an academic degree in Taiwan - and the Huayu Enrichment Scholarship Program - to encourage international students to learn Mandarin in Taiwan - in 2004, to enhance Taiwan's educational links with the world.
These scholarships are awarded annually by Taiwan's overseas missions and this year, the Education Division of Taipei Economic and Cultural Office (TECO) in Los Angeles had another overwhelming number of well-deserving applicants from Southern California, Arizona, and Hawaii to interview and choose between, to award four Taiwan Scholarships and 18 Huayu Enrichment Scholarships.
The lucky recipients were invited to attend a pre-departure orientation on July 12. Rebecca Lan, Director of the Education Division, congratulated them and then introduced three members of the Taiwan Alumni Association (TAA) who had each been a scholarship recipient: Sierra Chu, Matthew Meehan, and Charles Fernandez. They shared all kinds of practical details, and answered questions about living and studying in Taiwan.
Abraham W.S. Chu, the Director General of TECO in LA, presented certificates to the recipients on behalf of the Ministry of Education, and he encouraged them to treasure their opportunities to study and learn Chinese in Taiwan and immerse themselves in its cultural diversity. He also emphasized the importance of education as a gate to more opportunities. A delegation from Taichung City, led by Bruce Linghu, the Deputy Mayor Taichung and himself a former Director General of TECO in LA, also attended the orientation. He warmly addressed the students and invited them to visit Taichung. Everyone enjoyed time talking and exchanging experiences and opinions, and the scholarship recipients were all enthusiastically anticipating their upcoming journey to Taiwan.
Taiwan is a modern, democratic society and many outstanding universities that offer a wide variety of programs, some partly or fully taught in English. It has long been an ideal destination to study Mandarin and it boasts 60 Mandarin Chinese Language Centers affiliated with universities throughout Taiwan, which all offer a wide range of Chinese courses year-round to suit all ages, interests, and study aims. Language students can also deepen their understanding of Taiwan's environment, culture, history and people, and help create enduring friendships between Taiwan and the global community.
The application period for these two scholarship programs is from February 1 till March 31 each year. For more detailed information regarding the two scholarship programs, please visit www.tw.org/scholarships.