:::
Statistical Summaries
Students from Latin America increases every year
Overseas students are the bridge of international friendship. The number of overseas students of a country represents the attraction and influence of that country. Number of overseas students from Latin American countries having a diplomatic relationship with Taiwan is small over the years because of the distance and language barrier between these countries and Taiwan. However, as we established the Taiwan Scholarship in recent years to aggressively propagate and encourage excellent overseas students to study in Taiwan, the number of students from Latin American countries studying in Taiwan increases every year. This not only promotes the interactions between both countries but also improve the understanding and friendship between us.
Total Number of Overseas and
Latin American Students Studying in Taiwan in 2005-6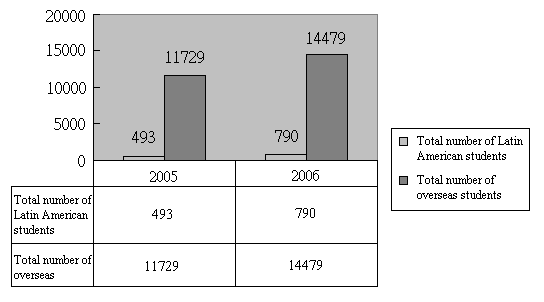 Total Number of Overseas and
Latin American Students Pursuing a Degree in Taiwan in 2005-6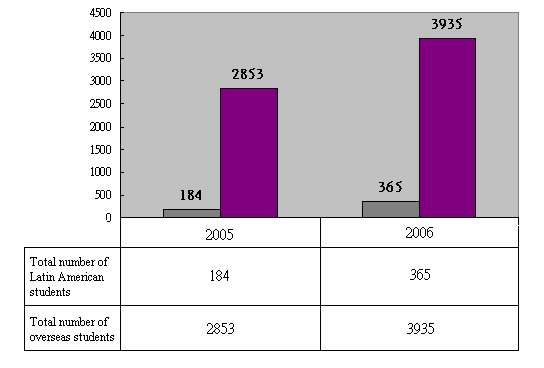 | No. | Country | Ranking | Students in 2005 | Students in 2006 | Growth |
| --- | --- | --- | --- | --- | --- |
| 1 | Paraguay | 15 | 19 | 46 | 27 |
| 2 | Costa Rica | 17 | 24 | 43 | 19 |
| 3 | Honduras | 17 | 20 | 43 | 23 |
| 4 | Panama | 19 | 30 | 40 | 10 |
| 5 | Belize | 20 | 19 | 39 | 20 |
| 6 | Nicaragua | 22 | 7 | 33 | 26 |
| 7 | Guatemala | 27 | 9 | 22 | 13 |
| 8 | El Salvador | 29 | 12 | 16 | 4 |
| 9 | Bolivia | 37 | 5 | 13 | 8 |
| 10 | Peru | 39 | 8 | 12 | 4 |
| 11 | St. Vincent and the Grenadines | 46 | 4 | 9 | 5 |
| 12 | Haiti | 46 | 4 | 9 | 5 |
| 13 | Brazil | 52 | 10 | 7 | -3 |
| 14 | Argentina | 52 | 1 | 7 | 6 |
| 15 | Chile | 56 | 3 | 6 | 3 |
| 16 | Federation of Saint Christopher and Nevis | 62 | 4 | 5 | 1 |
| 17 | Mexico | 62 | | 5 | 5 |
| 18 | Ecuador | 76 | 1 | 3 | 2 |
| 19 | República Dominicana | 80 | 3 | 2 | -1 |
| 20 | Colombia | 80 | | 2 | 2 |
| 21 | Venezuela | 80 | | 2 | 2 |
| 22 | Commonwealth of Dominica | 107 | | 1 | 1 |
| 23 | Grenada | | 1 | | -1 |
| | Total | | 184 | 365 | 181 |
Total Number of Overseas and
Latin American Exchange Students in Taiwan in 2005-6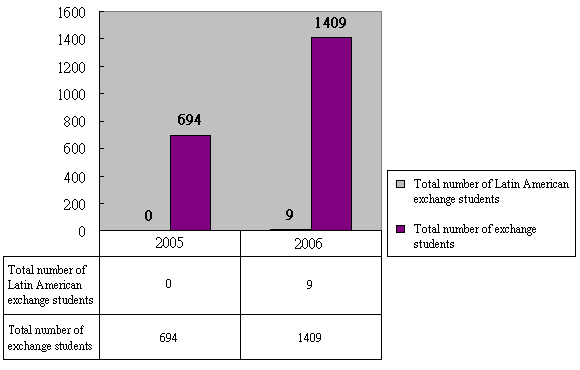 Total Number of Overseas and
Latin American Students Learning Chinese in Taiwan


| No. | Country | Ranking | 2005 | 2006 | Growth |
| --- | --- | --- | --- | --- | --- |
| 1 | Paraguay | 20 | 45 | 53 | 8 |
| 2 | Honduras | 24 | 32 | 47 | 15 |
| 3 | Brazil | 25 | 25 | 46 | 21 |
| 4 | Panama | 30 | 34 | 36 | 2 |
| 5 | Nicaragua | 30 | 27 | 36 | 9 |
| 6 | Mexico | 34 | 11 | 31 | 20 |
| 7 | Costa Rica | 29 | 29 | 29 | 0 |
| 8 | Chile | 39 | 9 | 20 | 11 |
| 9 | Argentina | 40 | 15 | 18 | 3 |
| 10 | Peru | 42 | 12 | 15 | 3 |
| 11 | Colombia | 47 | 3 | 12 | 9 |
| 12 | Belize | 48 | 14 | 11 | -3 |
| 13 | Guatemala | 48 | 12 | 11 | -1 |
| 14 | St. Vincent and the Grenadines | 48 | 9 | 11 | 2 |
| 15 | El Salvador | 61 | 5 | 7 | 2 |
| 16 | Haiti | 61 | 4 | 7 | 3 |
| 17 | Bolivia | 68 | 4 | 6 | 2 |
| 18 | Federation of Saint Christopher and Nevis | 72 | 5 | 5 | 0 |
| 19 | Ecuador | 78 | 4 | 4 | 0 |
| 20 | República Dominicana | 87 | 2 | 3 | 1 |
| 21 | Republic of Trinidad and Tobago | 87 | | 3 | 3 |
| 22 | Jameica | 87 | | 3 | 3 |
| 23 | Venezuela | 98 | 3 | 1 | -2 |
| 24 | República Oriental del Uruguay | 98 | | 1 | 1 |
| 25 | Grenada | | 4 | | -4 |
| 26 | Guyana | | 1 | | -1 |
| | Total | | 309 | 416 | 107 |
Total number of overseas students in Taiwan
In 2006 there were 14,479 Latin American students in Taiwan (including students pursuing a degree, exchanged students and students studying Chinese as a second language), with an increase of 2,750 students from the total of 11,729 in 2005. In 2006 there were 790 overseas students from Latin America (commanding at 5.5% of the total), with an increase of 297 students from the total of 493 students commanded at 4.2%) in 2005.
Total number of overseas students pursuing a degree in Taiwan
The total number of overseas students pursing a degree in Taiwan was 2,853 in 2005 and 3,935 in 2006, with an increase of 1,082 students. The number of Latin American students pursing a degree in Taiwan was 184 in 2005 and 365 in 2006, with an increase of 181 students. In 2006, these students were from 107 countries, including 23 Latin American countries. Most Latin American students were from Paraguay ranked at the 15th of the total, with a total of 46 students; and then from Honduras with a total of 43 students, Panama with a total of 40 students, and Belize with a total of 39 students.
Number of Latin American exchange students in Taiwan
The number of exchange students enrolling to normal programs in Taiwan was 694 in 2005 and 1,409 in 2006, with an increase of 715. The number of Latin American exchange students was none in 2005 and 9 in 2006. In 2006 these students were from 50 countries, including 9 Latin American countries: Mexico , Peru , Bolivia , Argentina , Venezuela , Belize , Nicaragua , Panama and Brazil .
Number of Latin American students Learning Chinese in Taiwan
The total number of overseas students learning Chinese in Taiwan was 8,182 in 2005 and 9,135 in 2006, with an increase of 953 students. The number of Latin American students learning Chinese in Taiwan was 309 in 2005 and 416 in 2006, with an increase of 107 students. In 2006 these students were from 111 countries, including 24 Latin American countries. Most of them were from Paraguay , ranked at the 20 th with a total of 53 students; then from Honduras with a total of 47 students, Brazil with a total of 46 students, and Nicaragua and Panama with a total of 36 students.
Number of Latin American students receiving the Taiwan Scholarship

The aim of the Taiwan Scholarship established by the Ministry of Foreign Affairs is to provide students from countries having a diplomatic relation with Taiwan and countries which are friendly a scholarship to Taiwan to study in Taiwan (including the Chinese language program). Besides strengthening the diplomatic relationship and friendship with these countries, we are taking our international duty to help developing countries to cultivate talents. We hope that with this scholarship, we are providing education opportunities and making contributions to the international society.

The Taiwan Scholarship was established in 2004. The MOFA offers 100 scholarships to 19 Latin American countries every year through the local ROC Embassy. In 2005, 204 scholarships were given to students from 20 countries; in 2005, 327 scholarships were given to students from 20 countries. In addition to one round-trip economy class flight ticket, the scholarship includes NT$ 30,000 a month for every candidate.

No
Disbursed from
Students receiving the Taiwan Scholarship
2004
2005
2006
1
Taipei Economic and Cultural Representative Office in Argentina
2
4
6
2
Taipei Economic and Cultural Representative Office in Chile
2
4
7
3
Taipei Economic and Cultural Representative Office in Brazil
2
2
4
Taipei Economic and Cultural Representative Office in Colombia
1
1
3
5
Taipei Economic and Cultural Representative Office in Mexico
2
5
12
6
Taipei Economic and Cultural Representative Office in Peru
2
4
8
7
Taipei Economic and Cultural Representative Office in Bolivia
1
5
10
8
Taipei Economic and Cultural Representative Office in Ecuador
1
1
2
9
Embassy of the Republic of China ( Taiwan ), Asuncion , Republic of Paraguay
23
43
61
10
Embassy of the Republic of China ( Taiwan ), Panama City , Republic of Panama
20
26
35
11
Embassy of the Republic of China ( Taiwan ), Managua , Republic of Nicaragua
3
22
35
12
Embassy of the Republic of China ( Taiwan ), Guatemala City , Republic of Guatemala
4
7
20
13
Embassy of the Republic of China ( Taiwan ), Santo Domingo , Dominican Republic
1
1
2
14
Embassy of the Republic of China ( Taiwan ), Tegucigalpa , Republic of Honduras
8
24
44
15
Embassy of the Republic of China ( Taiwan ), Belize City , Belize
4
10
15
16
Embassy of the Republic of China ( Taiwan ), San Josė , Republic of Costa Rica
11
20
29
17
Ambassade de la Republique de Chine (Taiwan), Port-au-prince, Republique d'Haiti
4
6
6
18
Embassy of the Republic of China ( Taiwan ), Kingstown , St. Vincent and the Grenadines
4
8
13
19
Embassy of the Republic of China ( Taiwan ), Basseterre , Saint Kitts and Nevis
3
5
7
20
Embassy of the Republic of China ( Taiwan ), San Salvador , El Salvador , C.A.
4
6
10
Total
100
204
327