Profile on Education
Program to Nurture Leaders from Among Senior High School Students
With the advent of globalization and the knowledge economy in the 21th century, the appearance and contents of education are changing. To improve Taiwan' s competitiveness and expedite its educational ideals, the Ministry of Education has drawn up a "Program to Nurture Leaders from Among Senior High School Students". The program is being implemented in three phases. Senior/vocational high schools recommend students with leadership potential and multiple talents to attend a basic incubation camp. Those whose performance puts them in the top third in the basic incubation camp are chosen to enroll in an intermediate incubation camp, and the top third performers from the intermediate incubation camp in turn are chosen to enroll in an advanced incubation camp. Thus the country' s need to develop and stay abreast of internationalization and localization trends can be met, and its quality of education improved and future leaders nurtured.
To ensure its projected outcome, experts are invited to formulate the curriculum framework and implementation method. In addition, workshops are held for seed teachers to discuss and help design the curricula. Main features of this program are:
Ridding of restrictions imposed by standard curricula and finding new educational possibilities for the country' s future leaders. In other words, comprehensive curriculum designs that are student-focused.
Curriculum design and development take into account students' life experiences. The holding of discussions with persons working in industries serves as a means to help develop curricula.
Paying attention to students' needs. Courses and activities not usually available in schools are made available to raise students' interest.
Building databases of senior/vocational high school students' performance and establishing links with colleges and universities in an effort to set up a mechanism to encourage educational excellence.
Leaders cannot be nurtured through standard educational curricula or logical, empirical planning. These curricula must vary from place to place, school to school, and person to person. Consequently, this program must take into consideration individual schools and communities' needs and related scenarios in order to devise curricula with appropriate characteristics.
Enhancing the dialogue mechanism between entities and strengthening interaction and exchange between all participants in an attempt to fully comprehend their thoughts and intentions as the basis for constant correction and growth.
Faced with a world full of changes and a virtual, diverse society, it is essential to flexibly adjust curricula in order to adapt it to the changing world. In addition to nurturing individuals with the ability to solve problems, the program aims to nurture individuals capable of preventing problems from happening.
This program was first launched in 2002 during the summer and winter vacations. Thanks to its sound design, students not only broaden their horizons, but also learn how to help each other and the needy, share, and work together, making it easier for teachers to teach them. We believe this program will benefit both the teachers and students who participate and solid foundations will be laid for the education of individuals and the development of the country.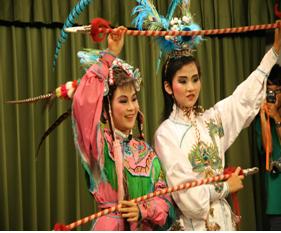 Folk Drama Activity - dressed up and ready to perform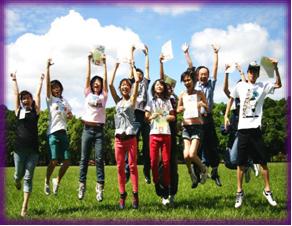 Mission accomplished